Private Security and Public Security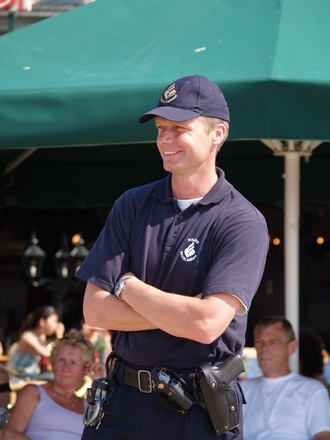 Private Security and Public Security
When it comes to Security in the United States, there are two main groups: Public and Private.
Public security agencies are such groups more commonly known as the police, the sheriff's department, the FBI, or collectively, Law Enforcement. They are funded exclusively by governments and large public transportation services in the interest of civic order. These agencies include municipal, county, state, and federal police forces. Legislation in each jurisdiction varies widely and empowers these agencies, mandates specific training, and creates an objective oversight system. Police forces are granted special, wide sweeping powers that are recognized by the public, including:
Keeping the peace
Crime prevention
Victim assistance
Arresting or detaining suspected criminals
Investigating crimes
Seizing evidence
Court testimony
Executing arrest and search warrants
Private security differs from public security in several significant ways, depending on the jurisdiction. The range of powers authorized to a licensed security guard vary dramatically at the city, county and state level, so please use this guide only as a rough overview, and familiarize yourself with your local security legislation and licensing practices.
Private security is provided to clients in exchange for a fee, and other than in special circumstances, has its jurisdiction limited only to the property owned by the client. Security is provided to protect the interests of the client, rather than the general public. Generally, private security guards do not have the same powers of detention, arrest, or search and seizure to security service providers as have been extended to police.
Private security personnel work for individuals, partnerships and corporations, and is designed to protect their interests. This generally includes the protection of assets and property, personnel and customers, and information. Industrial and information security has become one of the most important goals of private security.
Companies often wish to have private security without the costs of developing their own security division and instead choose to hire the services of an outside security company. By contracting with a security agency, a company avoids incurring the costs associated with managing and administration. For example, the costs associated with security  training, performance monitoring, health benefits, can all be avoided.
A private security firm can divide these costs among a wide variety of clients, thus bringing down the cost to each individual client. Companies that employ contract security also can avoid difficulties that may be encountered through union or employee contract negotiations, as well as a measure of legal indemnification. These concerns are transferred instead to the private security firms.
Finally, independent security companies are able to develop expertise and training beyond the range usually associated with internal security operations. If your Arizona business is in need of contracted private security, we hope that you choose Cutty Security and Protection.
Private Security Associations and Memberships